O. F. H. S.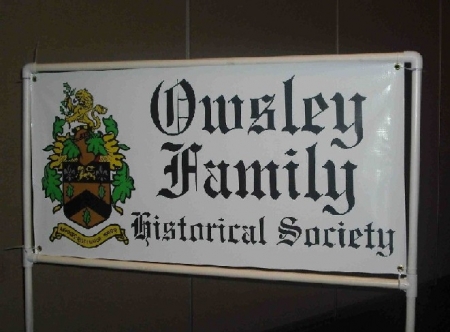 Established 1979
Lexington, Kentucky 
IMPORTANT ANNOUNCEMENT 
May 10, 2021 
Due to the threat of the Coronavirus, the OFHS meeting was cancelled in 2020, and also in 2021. Hopefully, we will be able to meet in 2022.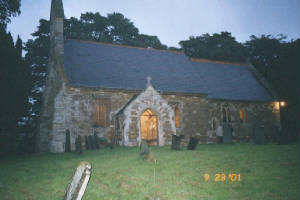 About us: 


Learn more about how to become a member of the OFHS and all benefits of membership by clicking here:
"OFHS Newsletters"                "OFHS Meetings"
"Lineage Research"

Search for your Owsley, Ousley, Housley ancestors here:
Owsley and Related Families at TribalPages.com
NOTE: This is a link to Floyd Owsley's family database, which will soon include Ronny Bodine's Owsley (Ousley, Housley) family database from his many years of extensive family research. If you can't find your ancestor, email Floyd Owsley at floydowsley@comcast.net.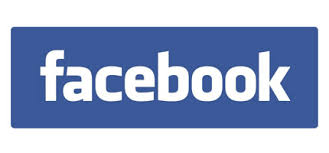 A great place to communicate with cousins!
Over 1,000 members.

OWSLEY   *   OUSLEY   *   OUSELEY
HOUSLEY   *   HOWSLEY   *   WOOSLEY
THE OWSLEY SURNAME DNA PROJECT
"Learning more about our family history 
by utilizing modern genetic (DNA) research."
(Genealogy by Genetics)

"Finding cousins and verifying genealogical research."
"Solving family mysteries."

OFHS PHOTO ALBUM

The Owsley Crest
Antiquus Restituatur Honor.
Ancient Honor Restored.
The arms depicted on the Main Page are a modern rendering of those borne by the family of Owsley, of Skeffington, Leicestershire. These arms were a subject of correspondence in 1796 between Major William Ouseley, then posted to the Ayrshire Light Dragoons and Dr. John Owsley, of Blaston, Hallaton, Leicestershire, and is included in Harry Bryan Owsley's The Owsley Family in England and America 1635-1890 [Chicago: 1890]. Dr. Owsley wrote that these arms were borne by Newdigate Owsley [1660-1714], then by his son, John Owsley [1690-1754]. Charles Owsley, younger brother of John, died in 1731, and was buried at Lowlaton Church, county Essex. The arms appear there on a marble monument erected to the memory of his father. John Owsley, being unmarried, as were all of his brothers, gave the seal bearing the Owsley arms to Dr. John Owsley [1717-1808], a grandson of Newdigate Owsley's sister, Edith [1662-1714] and her husband and cousin, Rev. William Owsley [1662-1733].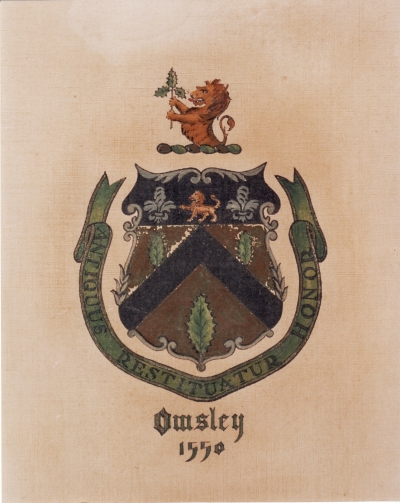 The arms appear as blazoned by John Burke in Burke's Commoners of Great Britain and Ireland[London: 1834-1838], volume 3, page 675, for Owsley, of Skeffington, Leicestershire.
Or. A chevron sable between three holly leaves vert. On a chief of the second a lion passant, between two fleurs-de-lis, argent.
The original granting of these arms has been investigated by The Institute of Heraldic and Genealogical Studies, in Canterbury, Kent, England. In a letter of 15 January 1998, Cecil R. Humphrey-Smith, F.S.A., Principal of the Institute, wrote-
"There is no coat of arms recorded for OWSLEY. As likely as not, it is descended from OUSELEY and at the time of the Heralds' Visitations in the sixteenth and seventeenth centuries, there were families in Cheshire and Northamptonshire. The Cheshire family appears to have disclaimed the title of gentility and use of arms. The Northamptonshire family of OUSELEY of Courteen Hall appears in the Visitation records of that county dating from 1564, 1610, 1613 and 1618. This was the work carried out in preparation for the 1617-1619 Visitations completed by William Camden, Clarenceux King of Arms, with Sir William Segar, Garter King of Arms, and Augustin Vincent, Rouge Rose Pursuivant of Arms." 
As Mr. Humphrey-Smith noted, the arms borne by the Leicestershire Owsleys were very similiar to those of the Northamptonshire Ouseleys. William Berry, in his CountyGenealogies, Pedigrees of Buckinghamshire Families [1837], page 61, depicts the armorial bearings of Sir Gore Ouseley [1770-1844], Baronet. The arms are described as- Or, a Chevron sable, between three Holly-leaves Vert; a Chief of the second. Whereas the arms of both families are identical, the crests are very different. Crests were not of a hereditary nature and each bearer of the arms could change it to whatever please him. That of Sir Gore Ouseley is described as- On a Ducal Coronet Or, a Wolf's head, erased, Sable, holding in the mouth, a dexter hand, couped at the wrist, Gules. The motto, Mors Lupi Agnis Vita, was also different, but could, like the crest, be changed to suit the bearer. 
In America, the arms were also ascribed to Thomas Owsley [1658-1700], of Stafford County, Virginia, a brother of both Newdigate Owsley and Edith Owsley. The arms were recorded in Matthew's American Armoury and Blue Book [1907], Armorial Addenda, page 58, John Matthews, editor. 

Please sign the OFHS Guestbook: 


Problems? Corrections? Please e-mail: floydowsley@comcast.net 



LAST UPDATED
May 10, 2021